Vem vill inte ha en smart, personlig assistent i sitt uppkopplade hem?
Geir V. Hagen är utvecklare på Purple Scout och tvekade inte många sekunder innan han lånade hem kontorets nyinköpta Amazon Echo för en testperiod. Men hur uppkopplade är folks hem och blev Alexa hushållets mittpunkt?
Trots att begrepp som IoT och "det uppkopplade hemmet" varit buzz words i över två år nu, tycker jag mig knappt märka någon skillnad hemma hos de flesta. Ja, förutom någon enstaka elmätare och lite smarta glödlampor här och där. Men de stora techbolagen fortsätter ihärdigt sitt utvecklande av produkter som ska hantera IoT-enheter via röststyrning, ungefär som att du skulle ha en egen butler att ropa ut order till hemmavid.
Amazon är ett av dessa techföretag, de har tagit fram produkterna Echo, Dot och Tap. De är i stort sett likadana produkter, men i lite olika format. Google har börjat sälja sin enhet Google Home. Microsoft är även dom på gång med ett butler-substitut med sin Microsoft Hub, där Cortana är en del av navet.
När Purple Scout köpte in en Amazon Echo att ha på kontoret kände jag att jag var tvungen låna hem den och prova den en vecka…. eller fyra.
Setup
Amazon har spärrat möjligheten att installera Alexa-appen i länder där deras produkter inte säljs. Men att komma runt detta är ganska enkelt, i alla fall på en android-telefon. Börja med att ställa in telefonen så att det går att installera appar från osäkra källor, sedan googlar du dig bara fram till vart du kan ladda ner Alexa-appen för installation. Till sist loggar du in med ditt Amazon-konto och så är du igång med setupen. Du är igång out of the box på max fem minuter.
Konfiguration
Delar av nyttan med en Echo förutsätter att den förstår vart den befinner sig i världen. Och nu kommer vi till den svåra biten – att konfigurera din Echo så att den fungerar i ett land där den inte säljs. Detta var tidigare möjligt genom att man använda sig av curl-statement, men Amazon verkar ha täppt igen detta "hål", så just nu får man vara nöjd med att man hamnar i rätt tidszon.
Logitech Harmony Hub
I mitt hem har jag inte så många IoT-prylar, men den jag har kunde jag koppla upp mot Amazon Echo – min Logitech Harmony Hub. Varpå jag kunde slå av och på min TV via röstkommando. Tyvärr har jag olika sekvenser som jag byter till då och då, som till exempel när jag använder min ChromeCast. Då måste man byta input på TV:n till ChromeCastens HDMI-port och ändra på förstärkaren så att ljudet kommer från rätt källa. För att få detta att fungera tillsammans med Amazon Echo hade jag behövt sätta upp denna sekvens som en aktivitet istället, vilket visserligen går. Men jag valde att inte ändra på detta för att inte förvirra övriga i familjen. Så Amazon Echo kan i dagsläget bara hjälpa mig med att slå av och på min TV.
Amazon Echo i vardagen
Att starta dagen med att säga "Alexa, good morning!" ger ett vänligt motsvar från Alexa och en liten berättelse om vilken dag det är i form av till exempel George Washington Dayeller någon annan historisk händelse som inträffat på den aktuella dagen. Men det är inte alltid som Alexa förstår vad du säger och hon talar förstås bara engelska. Men det finns en guide så att Alexa skall lära sig hur du uttalar olika ord. Men barn verkar Alexa ha lite extra svårt att begripa, i alla fall min tvååring. Mitt barn har vid flera tillfällen ropat på Alexa på det sätt som tvååringar gör. Men Alexa svarade aldrig på hennes tilltal. Om Alexa skall bli hushållets mittpunkt så måste språkigenkänning utvecklas.
Så, är Alexa ett måste?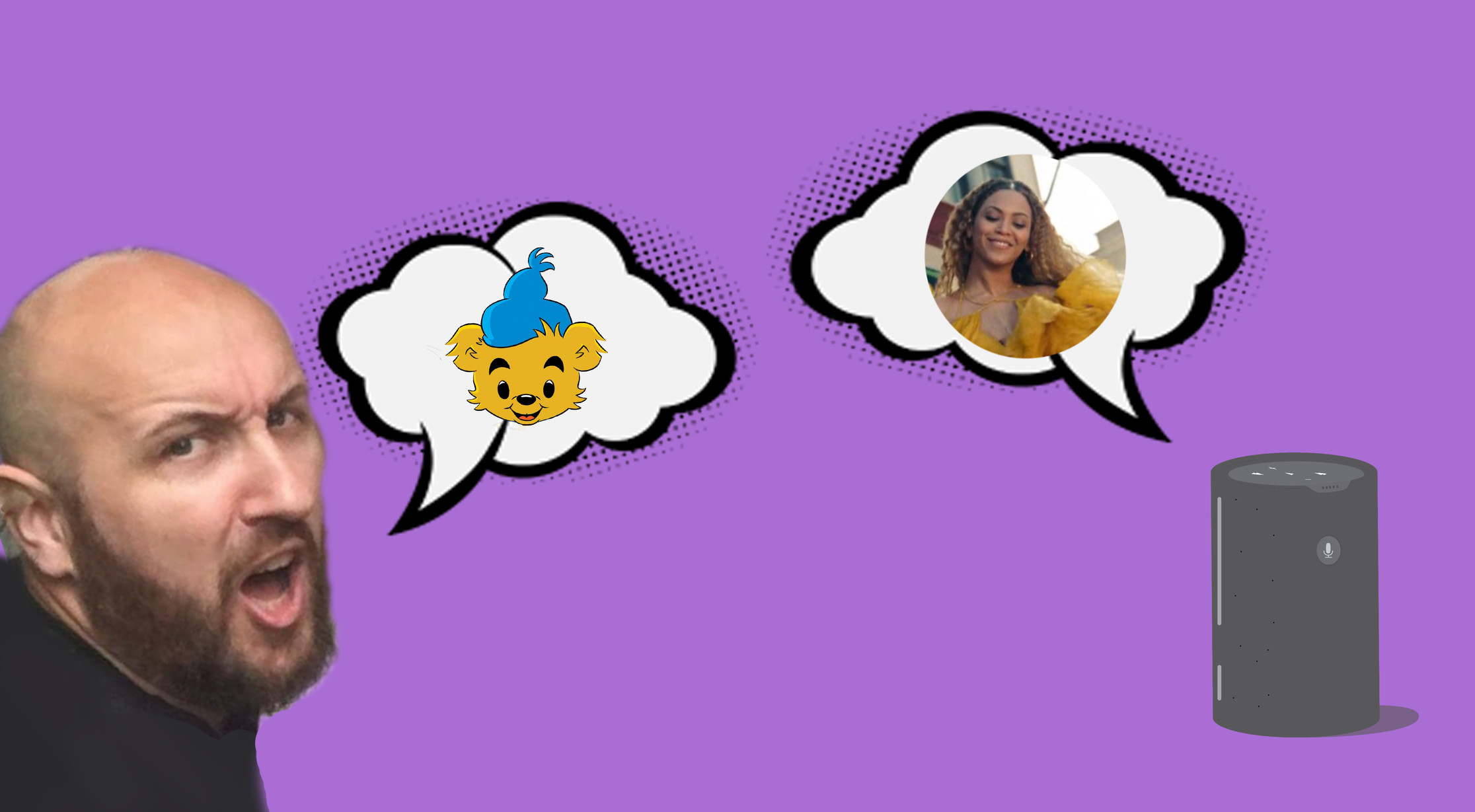 Amazon Echo är en trevlig liten pryl, men fortfarande är det en del saker som inte är hundra. Mycket faller när produkten inte är anpassad för den svenska marknaden. Ett exempel på det är när min tvååring vill lyssna på Bamse och vi säger: "Alexa, play Bamse on Spotify", och responsen blir: "I'll play some Beyonce on Spotify".
Visst är det roligt med en sådan här manick hemma, men frågan är om vi verkligen har tillräckligt med IoT-prylar i hemmen att styra eller om de fortfarande är för dyra?
Geir Amazon Echo-tipsar:
Spotify
Spotify är en av musiktjänsterna som man kan koppla till. Och allt som krävs är att man har ett premiumkonto för att kunna koppla ihop Spotify med Amazons röstassistent. Tänk också på att ställa in så att Spotify blir den musiktjänst man använder per default, annars måste man vid varje fråga lägga till "Play … in Spotify", då Amazon Music är default.
Microsofts Eco-System
Jag använder mig av Microsofts system när det kommer till lagring och mejl. När jag satte upp Alexa så fanns det bara möjlighet att koppla sitt Googlekonto till tjänsten, men under resans gång så kom det stöd för Microsoft. Detta innebär att jag nu kan be Alexa lägga in kalenderbokningar och annat i min kalender.
Det finns även möjligheter för flera i hushållet att koppla sig till Alexa och genom att familjemedlemmarna säger sitt namn så förstår Alexa vems kalender hon skall lägga en påminnelse i, eller vems todo-lista hon skall skriva en notering i.